VISITING ARTISTS SINCE 2004

Michael De Feo
http://www.mdefeo.com/

James Rizzi
http://jmrizzi.blogspot.com/

Aakash Nihalani
http://www.aakashnihalani.com/

Kalene Rivers & Daniel Weise
http://www.openspacebeacon.com/

Dan Witz
http://www.danwitzstreetart.com/

Kylin O'Brien
http://kylinobrien.net/

Garrison, Alison and Bogart Buxton
http://adhocart.org/site/

RIPO
http://www.ripovisuals.com/

TEC
http://www.tecalbum.com/

Chris Morrey
http://www.cmorrey.com/

Jim Calvin
http://jamescalvinart.com/

Paul Notzold
http://www.txtualhealing.com/

Leon Reid IV
http://www.leonthe4th.com/

Mark Jenkins
http://www.xmarkjenkinsx.com/

Greg Edmondson
http://www.gregedmondson.net/

Jonathon Villoch
http://www.flickr.com/photos/depoe

Peat Wollaeger
http://www.stensoul.com/

Kathryne Hall
http://www.kathrynehall.com


Asheer Akram
Corey Escoto
Allison Watkins
Heather Corley
Jonathan Kline
Tia Blassingame
Michael Behle
Nancy Brown
Scott Hug
Robert Goetz
Json Myers
Thomas Cobian
Bob McGhee
Joey Los
Valerie Wedel
Matt Moyer
Mike Bostwick & Hannah Rose Reeves
Rebecca Choate & Pedro Guajardo
Kathryn Miles
Christine A. Holtz
Barbara T. Smith
Brian Dick
Christen Sperry-Garcia
Json Myers & Megan Gallant
Jim Calvin
Thomas Cobian
Bob McGhee
Joey Los
Valerie Wedel
Matt Moyer
Mike Bostwick
Rebecca Choate
Pedro Guajardo
Nadine Perry
Jean Lowe
Max Streicher
Wiktor Szostalo
Theresa Honeywell
John Dahlsen
Eric Troolin
Terry Martin
Patrick Hunt
Michael McGillis
Patrick Marold
Matthew Zupnick
Virginia Folkestad
Jim Hodges
Agnieszka Gradzik
Rachel Wilson
Pat Warner
Don T. Stevenson
Van McElwee
STRETCH
Betsy Knabe Roe
Patricia Innis
Jay Cummings
Sam & Jenny Dowd
SUPERARTIST, Matt Walston
Lee Littlefield
Curtis Ellinger
Paula Kentzel
Nick Pena
Rick Brummit
Joe Esser
Carol Flemming
Mandy Gerth
Sandra Van Tuyl











Our premise is based on the teaching artists' ability to inspire and direct growth in the visual arts. Successful artists respect complexity and invite students to engage with it creatively; successful artist teachers create a safe space in which young people can take the risks it is in their nature to want to take terrifying, thrilling, addictive and life-changing, yet safe and
constructive at the same time.



Scott Hug reviews the Neonwarrior's driver for our lifesize cardboard cargo truck in collaboration with The Pakistani Cargo Truck Initiative.



To meet a larger audience with our work we've designed traveling workshops and exhibitions. Starting with a 30 acre park witin three years we take on the Missouri State Capitol Grounds working closely with officials we advance to the abandoned Missouri State Penitentiary! Next a floating exhibition on Cole County Park Lake, followed by a K-12 campus.

To celebrate 10 years of Community Art, we try The Miller Performing Art Center where holiday traffic is at its height. Our most current thrill was the collaboration with The Nelson Atkins Museum of Art—currently we are seen on the Edgewood Greenway of Cole County.

Invite us to collaborate with your community!





Jean Lowe and husband Kim MacConnel inspired
a week long session producing cardboard
"Hummer in the Park".



Canadian Max Streicher enjoys the movement of
pattern against captured air inside his artwork "Giants".




Jim Calvin's "Music Box" at Missouri's State Capitol, where he learns to play the violin without the benefit of instruction.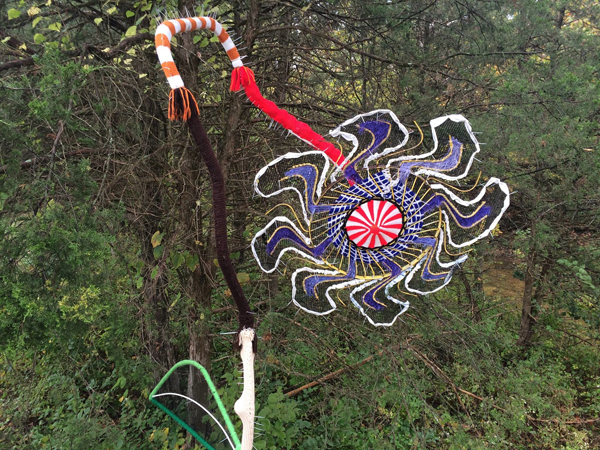 Workshops are being formed for 2015 giant WILDflowers!

Call us with questions at 816-805-8060

See more on facebook!